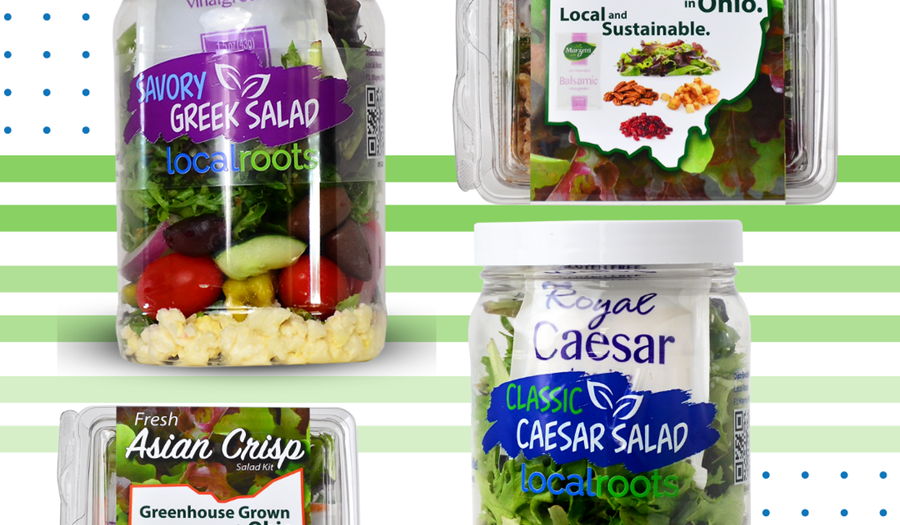 Healthy Eating Made Easy: 6 Benefits of Prepackaged Salads from Local Roots
6/21/2023
Wouldn't it be nice to run into your local Kroger or Walmart and have the option of grabbing a locally grown, fresh salad for lunch?
Because of Local Roots, this is possible at many large chain grocers across the Midwest. 
Eating healthy can be a challenge, especially when you're short on time or don't have easy access to fresh produce. That's where our prepackaged salads come in. The convenient and nutritious options are a game-changer for anyone looking to eat healthy without spending hours prepping meals each week.
Whether you're a busy professional or a health-conscious consumer, prepackaged salads from Local Roots offer a delicious and easy way to incorporate fresh produce into your diet.
All Pre-packaged Salads are NOT Created Equal
Pre-packaged salads have become increasingly popular in grocery stores. But, not all pre-packaged salads deliver the same high-quality ingredients and fresh taste.
Pre-packaged salads from Local Roots are a convenient and healthy option for people on the go wanting a quick, easily accessible, nutritious meal. Our salads are made with fresh, locally-sourced ingredients, which not only supports the local community but reduces the environmental impact of transportation.
Plus, our salad kits and jarred salads come in environmentally friendly, recyclable packaging, further reducing the environmental footprint.
Because our salads are sourced locally, they're harvested at their prime, and hit the shelves shortly after, without having to be transported across the country. This means our salads are fresh and nutrient dense.
So, without further ado, let's go over some of the major perks of Local Roots salad kits and jarred salads.
Six Benefits of Pre-packaged Salads from Local Roots
1. Convenience
Prepackaged salads offer a convenient and hassle-free option for people who are on the go or simply don't have time to prepare a meal from scratch.
Our Local Roots salad kits and jarred salads come pre-washed, pre-cut, and ready to eat with salad dressing and toppings included. Our salad kits even include a fork! All you have to do is pour on the dressing, and your salad is ready to eat.
This means you have a fresh, locally grown, healthy meal in a matter of minutes without worrying about the time and effort required for washing, chopping, and assembling the ingredients. It doesn't get much more convenient than that!
2. Freshness
At Local Roots, all of our lettuce is hydroponically grown in greenhouses in the Midwest. This means our pre-packaged salads are picked at the peak of freshness and quickly packaged to preserve their nutrient content.
You can rest assured you're getting optimal vitamins, minerals, and antioxidants in each bite, providing your body with the nutrients it needs to function optimally.
Plus, you'll taste the freshness in each bite. Locally sourced greens are typically more flavorful compared to those shipped from afar. The shorter time between harvest and consumption ensures you get the full flavor experience.
3. Variety
Our salad kits and jarred salads offer flavor combinations for all types of salad seekers. Our diverse variety of pre-packaged salads caters to different tastes and dietary preferences. 
The Classic Caesar salad kit or salad in a jar is a timeless favorite featuring crisp romaine lettuce, crunchy croutons, and shaved parmesan cheese with creamy Caesar dressing.
For those who crave a sweeter taste, the Sunny Cranberry salad kit combines a fresh spring mix with dried cranberries, sunflower seeds, and Marzetti Ranch dressing. 
Asian cuisine lovers can indulge in the Asian Crisp salad kit, which boasts a combination of fresh spring mix lettuce with carrots, sesame breadsticks, and Marzetti Asian Sesame dressing. This salad pays homage to classic Asian flavors.
Our Southwestern Chicken Salad will give you a true taste of the Southwest. This favorite is complemented with, black beans and corn, pico de gallo, and pepper jack cheese crumbles, then topped with Chipolte Ranch dressing. 
In addition to these delicious flavors, our other options include Sweet Harvest, Chicken Caesar, Savory Greek, Southwestern Chicken, Summer Garden, and Spicy Southwest salad.
4. Nutritional Value
Local Roots' salad kits and jarred salads offer a variety of nutrients that are beneficial for your overall health and well-being. 
Each salad includes a mix of fresh, leafy greens, which are high in fiber. This helps promote digestion and satiety and provides vitamins and minerals such as vitamins A, C, and calcium.
Most of our prepackaged salads include additional vegetables such as carrots, cherry tomatoes, cucumbers, or red onions. These vegetables, combined with our lettuce, are rich in vitamins, minerals, and antioxidants that help support immune function and can reduce inflammation.
In addition to vegetables, we also offer salads with protein options like our Chicken Caesar and Southwest Chicken jarred salads. Each of these includes tender grilled chicken, which is a good source of lean protein. Healthy fats, such as nuts and seeds, also contribute to the nutritional value of our salads. 
5. Portability
The portability of Local Roots salad kits and jarred salads allows people to enjoy healthy and fresh salads on the go. Today's busy lifestyle makes it difficult to make time for a healthy meal, often resorting to fast food or other unhealthy options. The portability of our prepackaged salads makes it easy for people to choose healthy food, even when they're short on time.
Our portable packaging also makes transporting food to work or school easy without compromising the quality or freshness. This ensures you can enjoy nutritious and delicious salads even when you're away from home!
6. Reduced Food Waste
Our pre-packaged salads are created with reducing food waste in mind. Each salad is carefully portioned to ensure there's no excess food. By providing precise amounts of each ingredient, Local Roots helps eliminate food waste typically resulting from unused portions.
The lettuce in our salad kits and jarred salads are also sourced locally, which means they're fresher and have a longer shelf life than produce that's shipped across the country. This reduces the amount of food that goes to waste due to spoilage or expiration.
Because our salads are prepared and ready to eat, there is no need for food preparation, helping reduce food waste that typically results from leftover ingredients or ingredients that are left unused.
In addition to reducing food waste, our lettuce, herbs, salad kits, and jarred salads are all sold in recyclable containers. 
Pre-packaged salads offer a multitude of benefits that make them a convenient and healthy food option. They provide a quick and easy way to incorporate fresh vegetables into your diet without food preparation or cooking.
The convenience factor of our salad kits and jarred salads is a major advantage when it comes to making healthy choices. Local Roots salads are portable and easy to pack for work, school, or travel. They're also portion-controlled, which helps with reducing food waste, and helps keep you on track with your health and wellness goals.
By incorporating Local Roots salad kits and jarred salads into your routine, you can enjoy the benefits of a convenient, nutritious, and delicious meal while also reducing food waste and supporting local communities. Look for Local Roots salads in your local grocery store today!